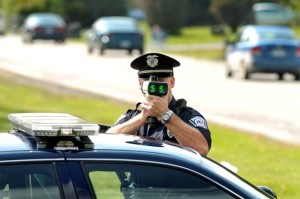 Was Puff Daddy singing about small towns in Utah and the speeding tickets they write? I attended BYU in the late-1970s and drove through a lot of small towns along I-15 to get home for the holidays and back for school. Those towns funded more than one Policeman's Ball with the tickets they wrote me. Okay, in all fairness, I was speeding back then but rarely more than 63 in a Nixon-imposed and Carter-sanctioned 55 zone (the same stretch of road is now, oddly, good enough to allow an 80 mph limit).
Now a Utah legislator, Republican Senator Lyle Hillyard of Logan, wants to put the brakes on local officers' penmanship. His bill, SB100, would cap the amount of fines a town can generate at 25% of their annual budget.
Why is this an issue? The town of Mantua (prounounced "MAN-too-ay") provides an excellent example. It is one of the smallest of small Utah towns (pop. 750 on a good day) but is strategically located astride a small stretch of US Hwy 89 between Brigham City and Logan. In 2014, the town cops (one full-time; three part-time) wrote 2,185 tickets and brought in more than $221,000 in speeding fines accounting for more than a third of the town's annual revenue. As a matter of comparison, the town of Willard has three times as much highway to patrol but writes less than a third of the tickets. Also interesting is that Mantua's mighty quartet of peacekeepers made only a few dozen arrests unrelated to speeding in 2014.
Congratulations to Sen. Hillyard. Utah drivers should not be viewed as sheep waiting to be fleeced.